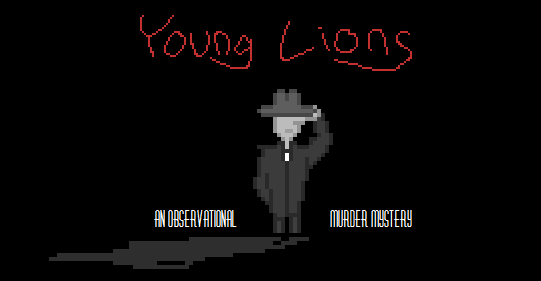 Young Lions
A downloadable game for Windows
WHO KILLED JEREMIAH MCMURRAY

"It was a cold October morning and I was sweating straight through my new blazer.
I was woken up by the commissioner with my first case as Detective for the NYPD.
I had never been to a bar before, at least not that kind of bar. I was always more of a 'sex on the beach' kind of guy.
This morning, however, would be the first day of the rest of my life.
I really should've been a veterinarian."
Jeremiah McMurray was found at his favorite bar the other night, the victim of an unknown assailant and it's up to you to figure out who or what killed him.

A Single Puzzle Adventure:
Young Lions is a short adventure game with one single puzzle to solve, a puzzle that requires you get intimately familiar with the Young Lions bar and its patrons.
There's no inventory, no dialogue trees, nothing except your powers of observation to guide you through. And maybe some help from the Inspector.
Question suspects to get there story, inspect clues scattered around the bar, and piece together what happened the night before.
Includes:
- A Most Excellent Game
- A Most Excellent Soundtrack
Download
Click download now to get access to the following files: